Today, we are extremely excited to introduce our new product update – the Patchstack developer plan, which comes with many positive surprises.
It's an important step forward for Patchstack as we move even deeper into application vulnerability management & vPatching.
Patchstack is for the builders! It's something we keep in mind with every aspect of our products and business. All builders – be they developers, freelancers, or agencies – need a flexible, performant, and scalable security solution.
Our update today is all about that. Making Patchstack even more flexible, performant, and scalable for developers, freelancers, and agencies. Patchstack has proven to be one of the best solutions on the market, and therefore we've decided to make it also more accessible.
Introducing the new Patchstack Developer plan
Starting from today the Patchstack Professional plan will be replaced by the new Patchstack Developer plan which includes up to 50 web apps for a fixed price of $99 per month.
In case you wish to add more to your Developer plan, you can volume upgrade your account by another 50 for an additional $99 per month.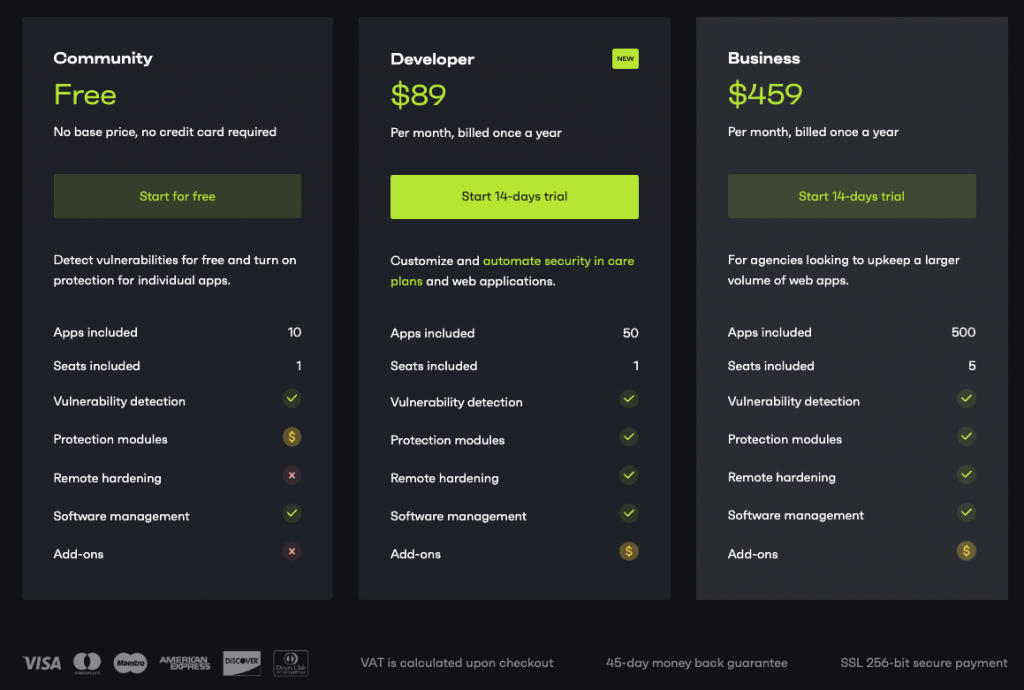 We wanted to remove the friction of our old per-site pricing to give more flexibility with the possibility to add/remove apps at any time without the constant billing changes. You can now add live sites, staging sites or just testing sites without the need to think if they are worth the extra cost.
For more detailed information about our plans and features, see our pricing page!
Check it out!
While being more accessible and flexible, the new Developer plan will remain to have all our latest vulnerability management and protection features from the old Professional plan, as well as the new security snapshot & developer reports (more on those below).
Updated Community plan
Since we launched the Patchstack Community plan almost exactly a year ago – there is one feedback we've received from all our users almost on a regular basis. The ability to selectively turn on protection on some sites while having only the free vulnerability management on others.
This request made a lot of sense, but it also required us to look at all the plans together and rework the entire billing system to make something like this even possible. By talking to a lot of users, we've found a golden middle ground to the new Community Plan.
Community plan will remain free for the features that were available before, but Community plan users can now turn on protection for individual sites, at $9 per site, per month. The basic protection includes both vPatching as well as generic firewall rules.
The updated Community plan will be limited to a maximum of 10 web apps for all new accounts, but if you had more than 10 apps added before today, you get to keep those! If you do have more than 10 sites on the Community plan, we highly recommend upgrading to the Developer plan though.
Oh, and the Community plan now includes our new security snapshot reports! 🤩
Brand new security reports
Many of our users have relied on our PDF reports to provide security insights to the company management or to offer better care plans to customers. Our reports have been waiting for an overhaul for a long time and now it's finally here!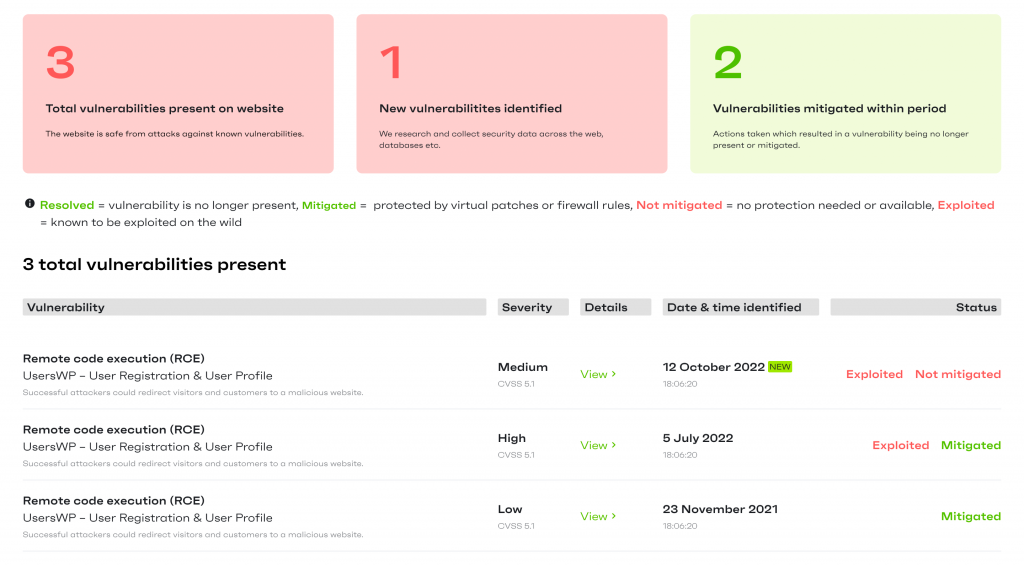 There are two types of security reports that you can generate and export. One is a simple snapshot of a current security situation and the other is a deep dive into the security of the application that also includes everything that has happened over a selected period of time.
Snapshot reports
These reports will be made available to all our plans (yes, also for the free Community plan). They include information about the security vulnerabilities present on the website as well as suggested improvements.
Here's an example of the snapshot report.
Developer reports
These reports can be generated and exported by the Developer and Business plan customers. They include in-depth information about the application security within a selected period of time.
You'll find which vulnerabilities are currently present, which ones have been mitigated with vPatches, and which ones are resolved.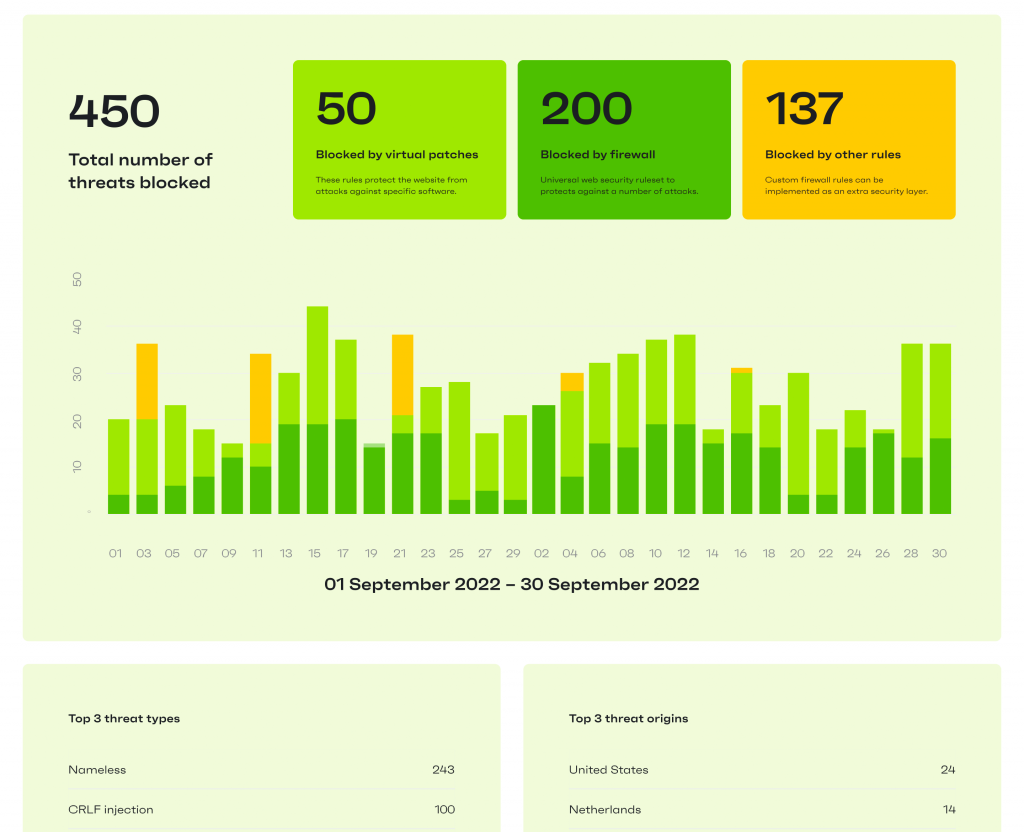 The Patchstack developer reports also include a detailed software overview and the firewall activity to see which threats have been blocked by vPatching, by our generic firewall rules, and by the custom user-generated firewall rules.
Here's an example of the new developer report.
Customize and auto-generate reports
The Developer and Business plan customers have the ability to modify the contents of the Developer reports. It's also possible to auto-generate the PDF reports which can be later downloaded from the report history.
The Business plan customers will also get the ability to white-label the reports to make them match the company branding. Business plan customers should also keep their eyes open for our future announcements because we have something additional coming for you very soon.
What else has changed?
This update also includes some minor UI changes on the Patchstack App. There will be a bigger UI update coming later this year with some highly requested features, so make sure to stay tuned for that as well.
If you have any questions or feedback, make sure to reach out to us on the support via the chat on our website or when logged in to the app. We're looking forward to hearing from you!
We hope you're as excited as we are and we're incredibly thankful for your support and that you've placed your trust in Patchstack. We are looking forward to keep building a safer web together with you!