This blog post will give you a complete step-by-step tutorial on how to secure a WordPress site with Patchstack.
If you care about your business you need protection from hackers and for this, you need to have a complete overview of your site, the first line of defense, and an intelligence system that will let you know when there's a risk and how to eliminate it.
In under three minutes (and with no technical knowledge), you can create an account and connect Patchstack to your WordPress site to have your site protected. So, let's see how to secure a WordPress site.
A complete list of Patchstack features for WordPress
Here is a full list of features that Patchstack offers for WordPress developers.
Detect
Plugin vulnerability detection: detect which plugins you have installed are vulnerable or not safe to use.
Theme vulnerability detection: detect which themes you have installed are vulnerable or not safe to use.
CMS vulnerability detection: detect if the CMS version you have installed is vulnerable or not safe to use.
Insecure configuration detection: detect if the website or server configurations are not safe.
Domain/SSL/TLS expiration detection: detect when your domain security certificates expire.
HTTP security headers detection: detect if you have properly set up HTTP security headers and which are missing. Get actionable recommendations on how to improve.
Protect
Get managed vPatches: whenever you have vulnerabilities on your website, Patchstack automatically applies vPatches to your site to keep it protected.
OWASP top 10 protection module: protect your website from the most popular security risks.
Unlimited custom HTTP rules: create an unlimited amount of custom security rules for your website.
Security module management: manage security modules across all your websites.
Site group management: create site groups, enable modules to a group of sites, and set tags for a better overview.
Report
Get an overview of the security of your website: access security logs and analytics directly from the Patchstack App.
Generate and download website security reports: generate periodic security reports and export them in PDF format.
Get alerts when anything needs your immediate attention: set up custom alert triggers to email or Slack.
Optional
Incident response: get help from Patchstack security experts whenever your site is under attack.
Add additional team members to your account: share your Patchstack dashboard with your team.
Download white-label security reports: add your own company logo to Patchstack security reports.
How to secure a WordPress site with Patchstack?
The first step is to make a Patchstack account. You can start the sign-up process by clicking here.
If you have already made an account you can log in by clicking the option on the very bottom or you can click here.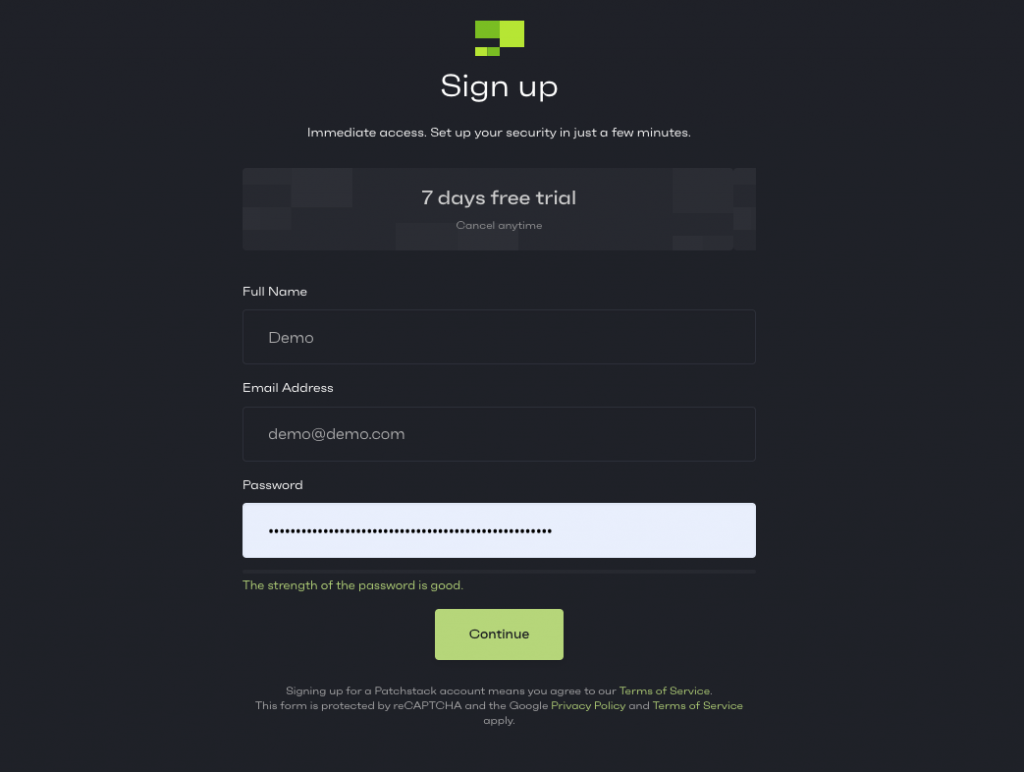 After you have made an account and added your account information you can connect your website with Patchstack. To connect your site with Patchstack you need to go to My Apps and click + Add New and go through the process described in-app.
Patchstack is connected to your site using a connector-plugin. To connect your site click on  Setup plugin and use auto-installation.
Instead of using the auto-installation feature, you can also download the .zip and upload it to your WordPress site manually. Installing Patchstack is really simple.
Log in to your WordPress site.
Click on "Choose file" and select the .zip file you downloaded earlier.
Then click "Install Now".
After it has been uploaded click "Activate Plugin".

By activating it when doing the manual setup will connect your website with Patchstack. It will configure everything automatically and enable a dashboard widget so you can see logs and statistics on your WordPress dashboard.
After you have added your site it will take roughly 10 minutes before data starts showing up on the dashboard and on the individual site view page.
Great, now you're protected with Patchstack!
If you followed every step – your website is now connected and protected with Patchstack.
Patchstack gets daily updates from our security team. The daily updates consist of security patches and updates to our security modules that keep your website protected from the latest vulnerabilities.
You can also check the latest vulnerabilities from our WordPress vulnerability database.
See the full list of Patchstack features here.