We're excited to announce a partnership between Patchstack and Hostinger!
With the help of Patchstack, Hostinger is now providing all its customers with up-to-date information about security vulnerabilities in their WordPress websites.

If you're a Hostinger customer, you can check the security status of all your installed WordPress plugins, themes, and core versions directly from Hostinger's hPanel dashboard and an option to update any vulnerable components to their safe versions!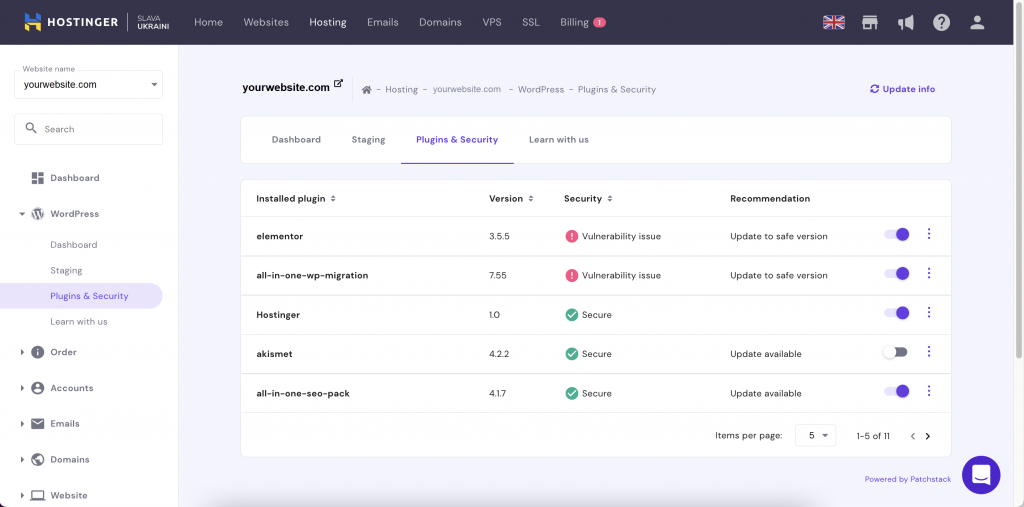 About Hostinger
Hostinger is a web hosting provider based in Kaunas, Lithuania. It provides a range of high-quality web hosting services and technology, empowering people around the world to unlock the power of the internet.
Hostinger acts as the launchpad for ideas as it proudly supports people unlock their creativity and entrepreneurship by providing the tools they need to succeed.
With data centers and offices worldwide, Hostinger is a truly global company with ambitions to bring its services to more and more people.
Services like Hostinger play a vital role in keeping websites secure, and this is a big step in the right direction.
Plugin vulnerabilities pose a huge security risk
Plugins and themes accounted for 99.42% of reported WordPress vulnerabilities last year. It is also a growing risk – in 2021 the number of reported vulnerabilities increased by 150%. 
It is common for WordPress websites to have vulnerable components – and often these are left unpatched. In the whitepaper mentioned we estimated that around 42% of sites have at least one vulnerable component in them.
With WordPress powering more than 40% of the web, this partnership will have a significant impact on driving awareness of these security issues – and on making the web a safer place for everybody.