"Hacked websites mean lost revenue."
– Silver from Support Meow
Silver helps WordPress owners with site management. He shares why his sites are protected by Patchstack and how Patchstack helps him to give his customers better service.
Silver runs a WordPress care plan business. He helps businesses with their WordPress sites. Especially those business owners who don't want to deal with any technical work.
Silver manages and protects 10 websites with Patchstack and said he plans to expand rapidly.
You can learn more about what Silver is doing from his website.
What are the biggest challenges for freelancers and digital agencies in 2020? Read the Website Security Survey Report 2020 to find out.
Why is web security important to you?
The most important part for me is to protect websites from getting hacked. Hacked websites mean lost revenue to my clients. This is the main thing Patchstack is helping me with.
– Silver from Support Meow
What are the biggest issues you are solving when your sites are protected by Patchstack?
The biggest issue I face is managing updates. Patchstack helps me to ease that part of my job. It also lets me know when I have any vulnerable plugins on my site. So I know I need to update immediately and I don't have to deal with hacked websites.
– Silver from Support Meow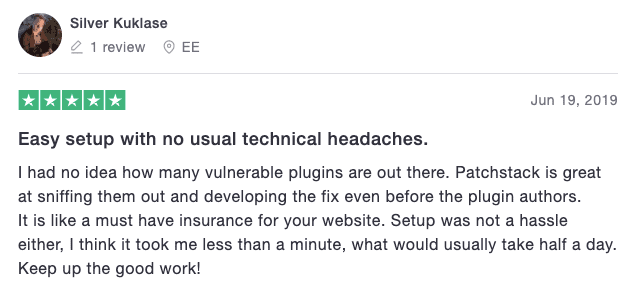 It helps me to build and maintain relationships with my customers.
Sending monthly security reports and making updates on their sites gives me an opportunity to have a good reason to contact clients and keep building relationships with them.
– Silver from Support Meow
Why have you decided to choose Patchstack over the competitors?
Wordfence bloats the database and other plugins do not seem to give too much value.
Also, I can guarantee the client, that if there are any malware issues on the site, I am likely to get help from Patchstack. Patchstack has a hard emphasis on security, which I don't want to focus on that much. They help as the missing piece.
– Silver from Support Meow

What would you recommend to other developers or agencies who want to make their sites more secure?
Don't build a WordPress site for a client and after finishing run away never to see them again. This is how the number of hacked websites raises.
Offer your help to website owners. While you do that try to build some long-lasting relationships with them. Website owners don't want to deal with updating and maintenance work. They have a business to run and updates, security, and maintenance are usually too much for them to handle.
As you know, most website or business owners are not IT experts and they don't plan become one. This is where I come and help them out.
– Silver from Support Meow